Balloon Walls for Parties and Events
Jun 8
Balloon walls are an excellent way to add some color and fun to your special event. They make a fantastic photo backdrop and guide guests to their special location. Balloon walls can be customized to match a specific theme, logo, or color scheme. Balloon walls are a great decoration for any party or special event and can be easily enhanced with LED lighting and foil letter balloons. The color choices for balloon walls are virtually endless!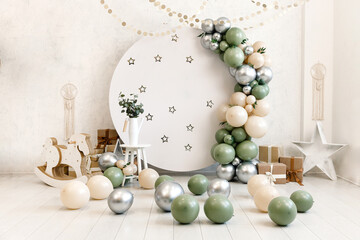 Balloon walls come in many shapes and sizes and can be used for trade shows, celebrations, and events. Balloon walls are typically priced by square foot, and they cost approximately $7 per square foot to rent. The price of a simple classic balloon wall begins at $7 per square foot, while a minimal organic wall costs $15 per square foot, while a full organic wall can cost up to $22 per square foot. Prices vary based on the type of balloons and other materials used.
Inflate the balloons before you begin. Using different-sized balloons will give your balloon wall the best effect. Inflating balloons prior to starting will make the process easier. After you have inflated your balloons, you can start tying them together. This will form a balloon column. If you'd like a larger balloon wall, you can tie two or more balloons together. Another way to make a balloon wall is to place a piece of fishing line or rope between two balloons.
Whether you're having a photo shoot or planning a wedding proposal, balloon walls make a perfect photo backdrop. To ensure your balloons remain in place during the construction process, make sure the grid you choose is sturdy enough to hold multiple balloons. This way, everyone can enjoy the moment! There are many other uses for balloon walls. Whether it's a birthday party, engagement party, or anniversary celebration, balloon walls can serve as an excellent backdrop for a variety of special occasions.
A balloon wall can be created by constructing it yourself or using a photographer's backdrop frame. Both methods can be adjusted to fit any size or location. The photographer can then hang balloons to create the perfect photo backdrop. Once the balloons are attached, you can add more clusters of balloons to make it longer. If you want to create a larger balloon wall, you should use a dual-electric inflator. You can also use several different colors, as long as they're evenly sized.
A balloon wall can be decorated with other decorations as well. You can add a few balloons to the wall to give it an additional effect, or you can choose different color options for the balloons and add foliage around the balloon wall. The balloons will fade and become foggy when exposed to outdoor elements and sunlight. The balloon wall can also be decorated with other accessories, such as a balloon arch or column. Its versatility makes it a great decoration option for any occasion.
A balloon wall can be a beautiful focal point at a wedding, anniversary party, or another social event. You can also use balloons as centerpieces on a dessert table or a photo backdrop. The possibilities are endless! A balloon wall is a great way to create a unique, memorable space. This decor can also be used to decorate a party, such as a holiday celebration, retirement party, or stockholder meeting. For an additional theme, you can add balloon decorations to your table setting.
Balloon-framed buildings have a long history. These structures were used before the mid-19th century. They differed from the timber-framed building which used large timbers interlocked with mortise and tenon joints. In contrast, balloon-framed structures rely on nails to hold pieces together. Unlike their wooden counterparts, they are lightweight and easy to construct. In addition, they are cheaper than timber-framed buildings.
Hanging garlands of balloons on walls can be done using a fishing line. Make sure to loop the line around a hook and secure it. You don't have to match each Gargan's length to hang it properly, but it looks great! The garlands don't need to be the same length, and you can even connect them using a monofilament line. Once the garlands are secure, attach them together with the fishing line.
Elocin Elegant Events
8793 Monroe St Merrillville IN 46410
219-300-3940
event planners
wedding planners
event professionals
https://www.facebook.com/Elocin-Elegant-Events-166774768792980
https://pr.business/elocin-elegant-events-merrillville-indiana
https://portal.botw.org/reviews/view/3031787/
https://parkbench.com/directory/elocinelegantevents
https://opencorporates.com/companies/us_in/202108111514126
https://nextdoor.com/pages/elocin-elegant-events-merrillville-in/recommend/
https://medium.com/@elocinelegantevents/elocin-elegant-events-351b26f3bcd0
https://it.cybo.com/US-biz/elocin-elegant-events
https://issuu.com/elocinelegantevents
https://indiana.bizhwy.com/elocin-elegant-events-id9986.php
https://in.yalwa.com/ID_139782504/Elocin-Elegant-Events.html
https://in-merrillville.cataloxy.us/board/b25569-elocin-elegant-events.htm
https://foursquare.com/user/1384686857
https://fonolive.com/b/us/merrillville-in/business/18199231/elocin-elegant-events
https://find-open.com/merrillville/elocin-elegant-events-12694226
https://ebusinesspages.com/Elocin-Elegant-Events_egm9s.co?PostReturn=0